Shop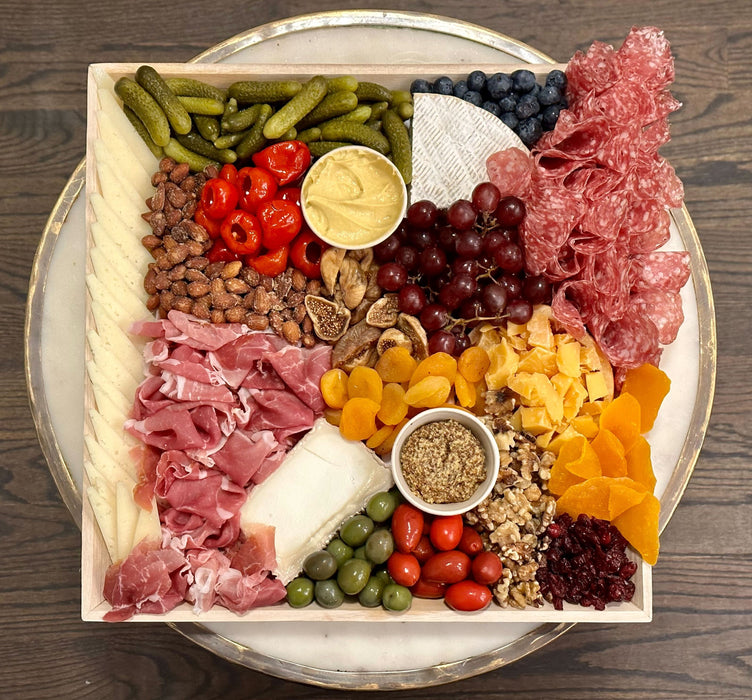 Our signature Cheese & Charcuterie Platter offers the best of two worlds. Bedford Cheese Shop cheesemongers select from our highly curated seasonal cheeses and balance them with our delicious sopressata and prosciutto  charcuterie. To enhance the experience for your eyes and palette, accompaniments include: antipasto, dried fruit, fresh fruit, nuts and crackers.

*Please note the images are of the large format platter, different sizes will vary.*
---
For same or next day orders please call us 718-395-3080 directly for availability.
---
Placing an Order
---
Experiencing the world through taste is at the heart of our mission.  Whichever Platter you select, consider it an invitation to explore the flavor profiles of an amazing range of cheeses, meats and accoutrements with Bedford Cheese Shop as your guide.  A few details to consider:
Platters require at least 48 hours notice.
*If an order is placed less than 48 hours in advance, it is subject to a $25 rush fee, and availability is not always guaranteed; we may not be able to make your platter at that time. 
Please alert us to any allergies or dietary restrictions.  We are not a nut, gluten or seed-free facility.  Gluten-free crackers available upon request.

Due to the ever-changing nature of our cheese and charcuterie cases, should a cheese or charcuterie selection be unavailable, it may be substituted for a product of equal or higher value. 
In addition to our website, Platter orders may be placed in Shop or over the phone.
Alteration & Cancellation Policy: 
Please note that any alterations to your order, or cancellation of items, or cancellation of the order in its entirety need to be made a minimum of 
48 hours
prior to your order being picked up or delivered. We order all items for your platter in advance and account for additional labor to ensure that your items are made with as much care and dedication as we can provide to create beautiful and delicious pieces for you. If you need any further help with your order please contact the shop at 
718-395-3080.