Our Story
History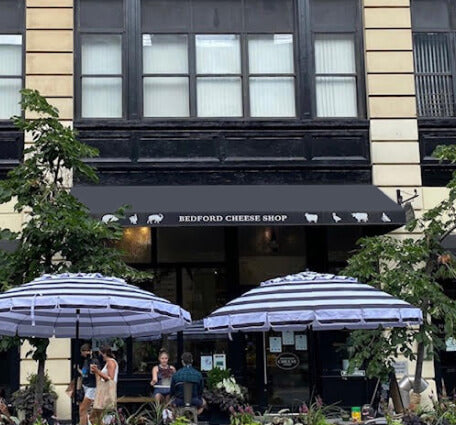 Bedford Cheese Shop first opened its doors in 2003 on Bedford Avenue in Williamsburg, Brooklyn. It was founded by Jason Scherr and Jason Jeffries with the intention of bringing good cheese to their neighborhood. In 2012, Bedford Cheese Shop opened a second shop in the Gramercy Park neighborhood in Manhattan, NY.
We now operate solely out of Gramercy Park. We continue to aspire to be the proverbial bridge between makers of cheese, charcuterie and specialty foods and our customers and community, near and far. We value the old world traditions of mongering. Every day, our cheesemongers impart not only their knowledge of cheese making, care and ripening, but also the unique stories behind the history, origins and nuances of the cheeses. The delicate balance of art and science. We hope to see you in the Shop soon!
Mission
We founded Bedford Cheese Shop with the mission of purveying our hand selected cheeses, meats, specialty items and house-made foods to our community near and far. Further, we endeavor to share our passion and knowledge of these foods in a way that creates a fun, memorable and educational experience for our customers. All the while, we work shoulder to shoulder with our colleagues in an environment where we value hard work, respect, integrity and laughter!
Our Team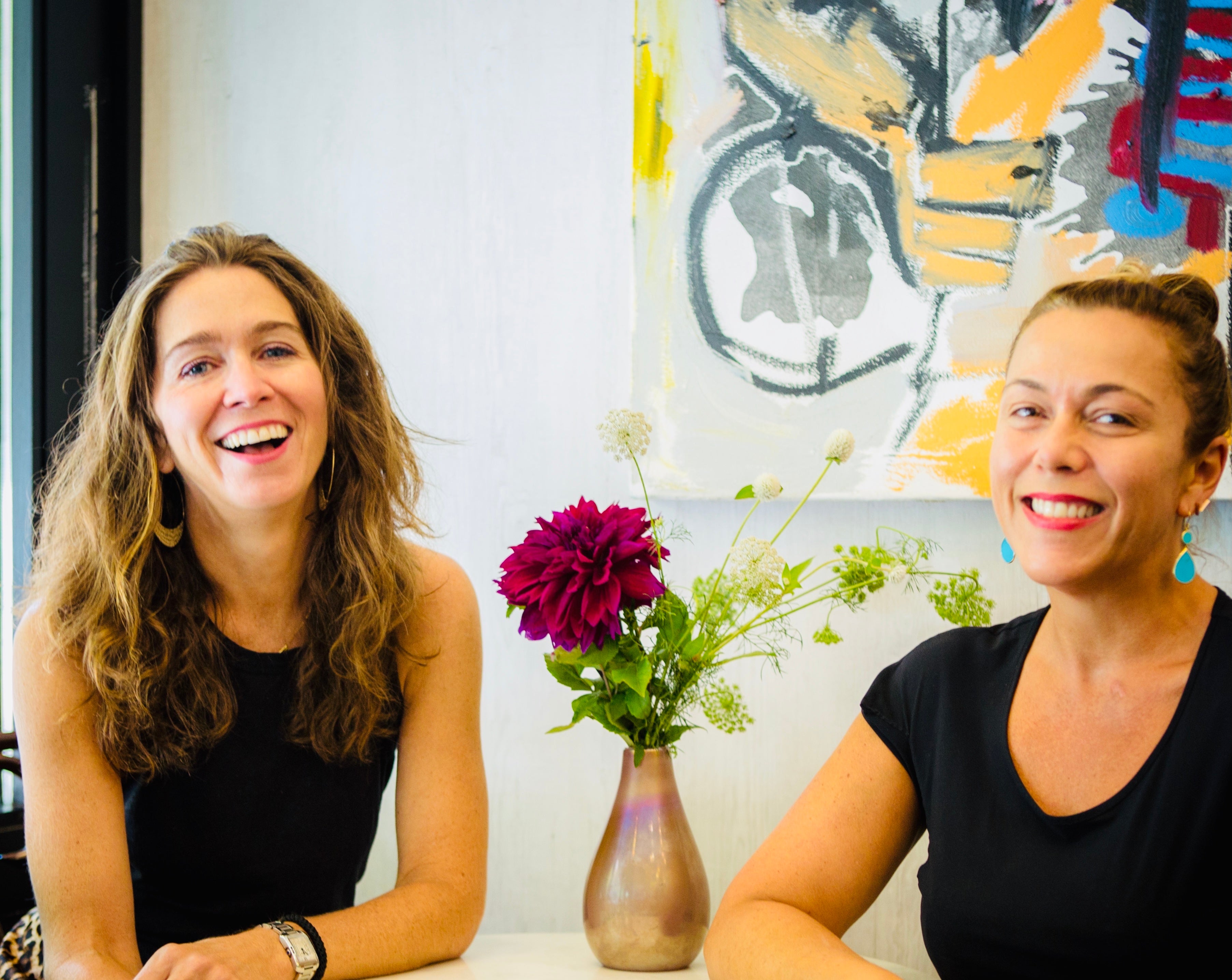 co-owners
Christina Earle & Samantha Fantauzzi
We are proprietors of Bedford Cheese Shop, running day-to-day operations on behalf of our fellow co-owners.  Just like cheese & crackers, rock & roll and peanut butter & jelly - some things are just better together!  Together, we work hard to foster an environment that allows our Team to develop and expand their knowledge and skills as cheesemongers.  All of us at Bedford Cheese Shop are passionate about the amazing cheeses, charcuterie and unique pantry items that we select for the Shop.  We are even more passionate about sharing these items with our Customers, both new and longstanding.  We figure - if we are doing it right - spreading our knowledge and enthusiasm ultimately allows us to support the many talented small-batch, farmstead and handmade producers from lands local, domestic and international.  More than ever, we understand first-hand how every single Customer interaction creates a positive ripple effect in a small business like ours that works with fellow small businesses.  It's this ripple effect that inspires us each and every day!  PS - we also LOVE to laugh.  A lot.
GENERAL MANAGER
Katelind K
Katelind manages the esteemed Cheese Dream Team at Bedford Cheese Shop.  Why a cheese shop, you ask?  Katelind enjoys learning new things and cheese is one of those unique and weird combinations of art and science that never fail to intrigue her.  Originally from Upstate, New York (the Fingerlakes region), Katelind has worked in the food industry for a number of years, and in the field of art and education for over a decade.  The interweaving of these three passions - food, art and education -  guided Katelind to Bedford Cheese Shop.  She loves the opportunity to create an environment where Customers can have an unforgettable cheese "experience".  Likewise, she tirelessly commits herself to cultivating a workplace where the Team is well-trained and supported.  Katelind thrives on creativity and thinking outside the box;  one of her current cheese-related recipe faves is a creamy, fluffy ricotta cheesecake topped with fresh caramel.  She loves to share her discoveries in the mystical realm of cheese, so next time you see her - ask for the recipe!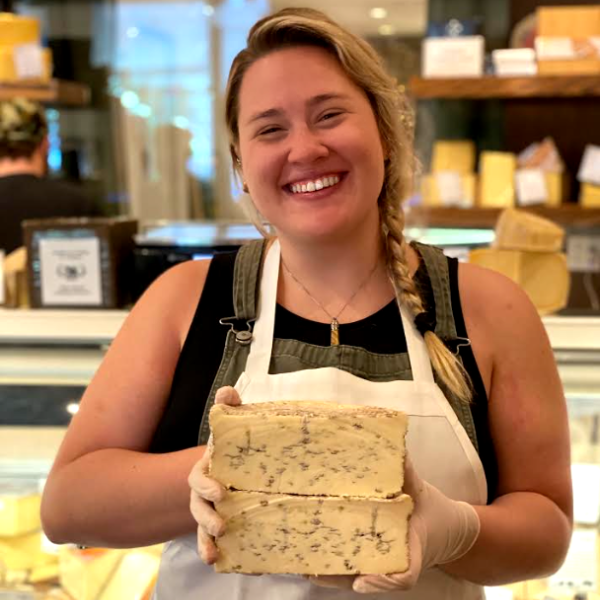 CHEESEMONGER | CO-CHEESE MANAGER
Cait Adler | ACS CCP
As a sophomore at Sarah Lawrence College, Cait began working at a cheese shop in Bronxville, NY.  She soon discovered that one does not simply "want" to be a cheesemonger - it's the cheese that really finds you!  Ever since, Cait has been committed to expanding her knowledge, experience and network within the world of cheese.  At Bedford Cheese Shop, in addition to working the case every day, Cait is responsible for curating our wonderful selection of cheeses, maintaining the integrity of the care and condition of the cheeses, and training cheesemongers - just to name a few things!  While her personal favorite pairing is a creamy bleu cheese and dark chocolate - Cait thinks that strong washed rind cheeses like Epoisses get a rough rap!  She thrives when she has the chance to work with Customers to offer tastings, tell a story about a cheese and - if you know Cait - share a hearty laugh!  When she's not behind the counter, you might find Cait performing in NYC - as she is an active musician in both classical and contemporary music.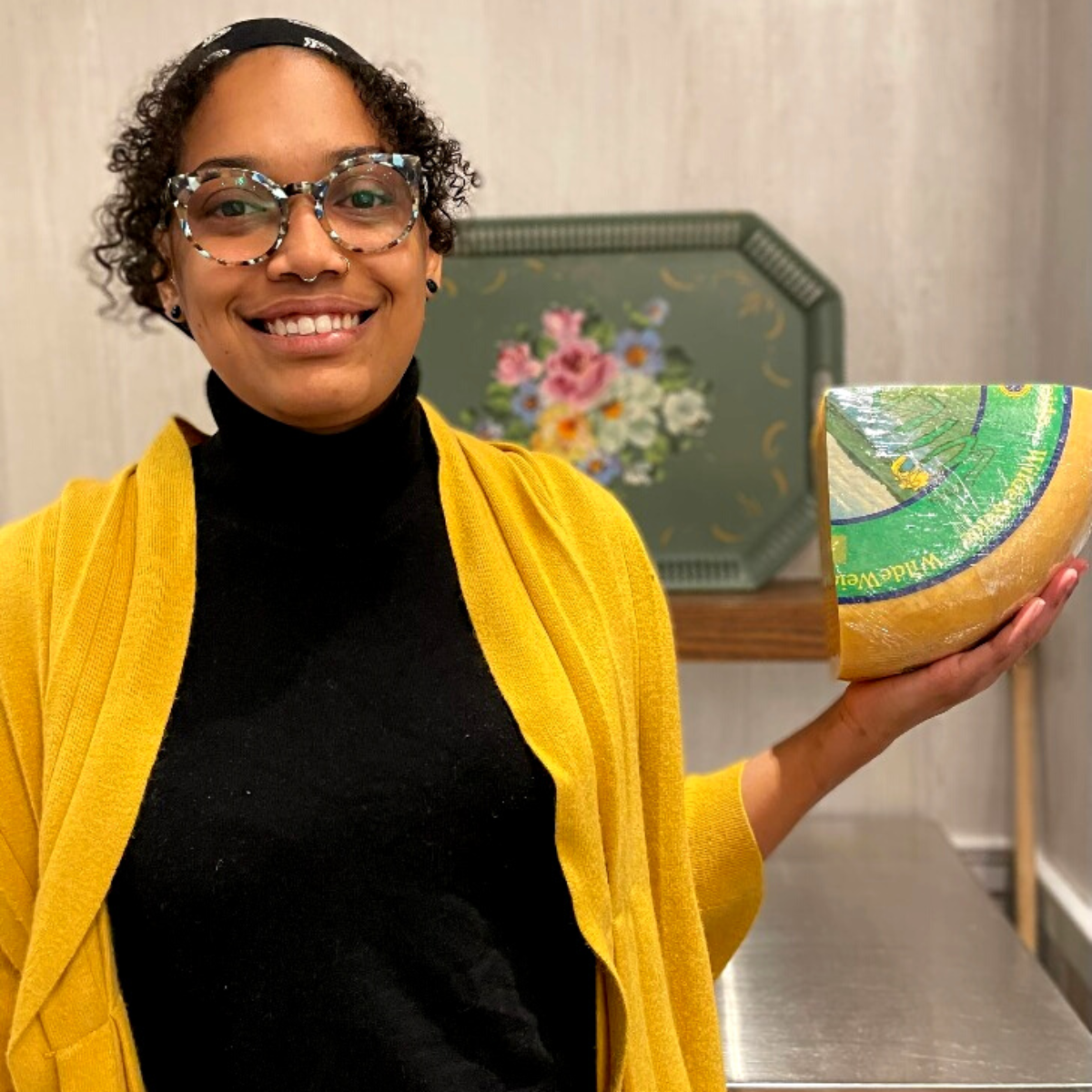 CHEESEMONGER | CO-CHEESE MANAGER
Kai Norton
Kai knew they wanted to work in a cheese shop when they were first introduced to the world of cheese, a variety of local Midwest favorites, at a small shop in Chicago. Kai says:  "The first time I cracked open a giant wheel of Mobay (Carr Valley) was one of the jaw dropping moments that kept me coming back to explore more about the styles, types, and makers. I knew working in a shop with a carefully curated selection would bring the joy of curiosity and the connection of community through story. The breadth of knowledge one must strive toward in order to be in conversation with the history, geography, topography and sociopolitical issues while staying humbled in the unknown, is what fuels me to continue scoring, cracking, facing and sharing."  Wow!!  Originally from Cincinnati, Ohio, Kai trained and worked as an Actor and Teaching Artist for the past eight years while also working in the world of food and beverage;  they enjoyed finding fun ways to pay the bills AND learn more about cheese. Their favorite cheese pairing is La-Von Farmhouse Goat Brie with a Pét Nat Piquette.  Kai feels strongly about the value of community and is excited to be part of the Bedford Cheese Shop community.
CHEESEMONGER | DIRECTOR OF CATERING
Zoey Sachs
Meet Zoey Sachs, Cheesemonger and Director of Catering. Hailing from Brooklyn, Zoey has been working in the cheese industry for more than ten years. Whether you find her behind the cheese case, building stunning BCS platters, or teaching "Cheese 101: How to Become a Curd Nerd", Zoey balances her deep knowledge with her quick wit and dry humor.  She always creates a memorable experience for every Customer, be they cheese novices or affeciantos!  Zoey loves offering Customers the chance to explore, and expand, their flavor preferences by guiding them through tasting delicious standbys as well as unique and seasonal selections. Her current obsession is anything from Lazy Lady Farm in Vermont. A highlight for Zoey was competing in the elite Cheesemonger Invitational!  Fun Fact: Zoey's most unusual pairing suggestion - potato chips, truffle mousse and a small French chèvre, washed down with a sip of Bourbon..yes Bourbon!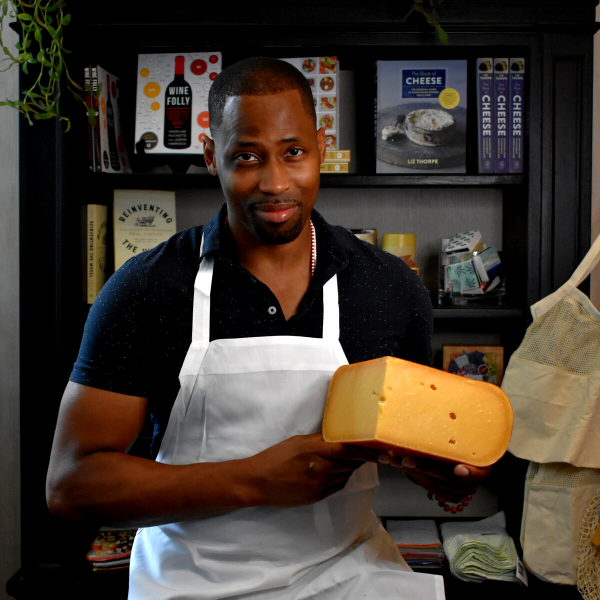 CHEESEMONGER | SUPERVISOR
Fred Knight
Born and raised in Harlem, Fred is a people person.  Always quick with a friendly welcome, one of Fred's favorite parts of his role as a Cheesemonger is the Customer interaction.  He says:  "When I talk with a Customer, I like to know how their day is going;  I enjoy treating people as I want to be treated.  And seeing them smile."  Initially, Fred didn't set out to specialize in cheese.  It was after working with cheese at Le District that he began to understand how much there is to learn and know;  from that point, Fred has grown to appreciate all styles of cheese with their individual story, flavor, funk and appearance.  And speaking of cheeses, and funk, he believes that blue cheese is often misunderstood and should be tasted with Customers to help demystify it.  However, Fred's favorite cheese is Adarré - full of nutty, sweet and grassy flavors.  Next time you stop by the Shop, don't be surprised if Fred greets you with a big smile and his signature:  "Hey Boss, how are you doing today?"
Cheesemonger
Danilo Benavidez
In 2009 Danilo embarked on a mission to become a butcher, however the cheese world had other plans. During Danilo's first days on the job behind the meat case, a head cheese buyer noticed Danilo's interest in "the curds" and decided to help develop Danilo's cheese knowledge and palate. It was love at first bite! Within a year, Danilo learned about the history of many cheeses, including their terroir, milks and production.  When considering his years, hands deep in curds, one of his favorite aspects of the cheesemonger role is working with Customers; teasing out what they enjoy and how adventurous they are willing to be.  From there, Danilo enjoys creating an exciting assortment of options.  If asked about pairings, he offers two unique suggestions; Monte Enebro and pickled blackberries with a lovely Malbec or, Parmigiano Reggiano with pickled watermelon rinds and a medium bodied white wine. At Bedford Cheese Shop his current favorite cheese options are Appalachian, Foxglove and Zimbro - and he looks forward to serving one and all.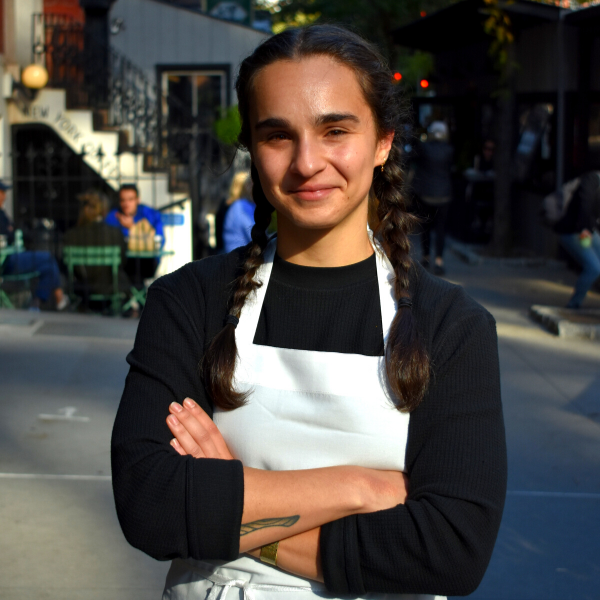 Cheesemonger | Charcuterie Buyer
Emma Lettiere
Meet Bedford Cheese Shop cheesemonger Emma!  Hailing from Westchester NY she has worked in cheese for the past 12 years.  In fact, her first job in high school was as a cheesemonger in training.  From this experience she developed her love of the curd recognizing the unique combination of specialty knowledge, case-by-case creativity and physical skill.  Of course, Emma gets excited discussing cheeses, one main topic is aged goat's milk cheeses.  In her opinion, it is often misunderstood, and written off, but everyone should taste them as they offer a wide variety of flavor with delicious tasting notes that aren't found in either cow or sheep options.  In respect to unusual and tasty cheese pairings, Emma swears by Stilton with dark chocolate though her current favorite Bedford Cheese Shop cheeses are Brebirousse d'Argental and the seasonal Brabander Reserve.  She is looking forward to cheese pleasing you all!
CHEESEMONGER
Graham Carroll
Graham Carroll joins our BCS team as a seasoned cheesemonger via the Big Easy and Austin Texas.  He has worked in the world of cheese for the past 15 years starting at Whole Foods where his interest was piqued by the beautiful cheese counter; which in turn led him to learn more about the slow specialty food movement.  Who knew that this moment would lead to him later becoming none other than Martha Stewart's personal cheesemonger?!?  He is thrilled to join our team and share his deep knowledge of all things curd!  One of his favorite pairings is jams with triple creams, however, he does enjoy funky Alpine with tinned fish!  Graham looks forward to helping our customers understand the case and has a personal interest in demystifying our wide selection of blues as well as championing not only how delicious all cheeses are, the current BCS favorite being our Cabricharme Belgian washed rind, but their nutritional value as well…all in moderation of course…..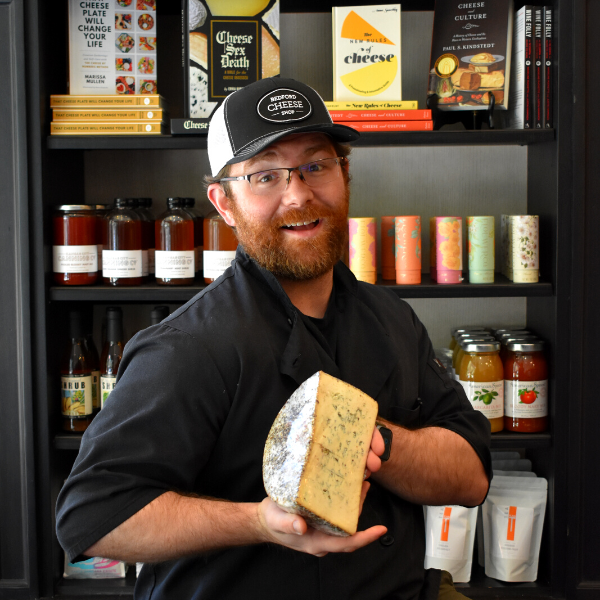 CHEESEMONGER
Joseph Rosenzweig
Hailing from Fort Worth Texas, Joe has joined our BCS team with a strong background in food, much of which has been focused on cheese for the past two years.  One can also say, cheese is in the family, as his brother has been working as a wholesaler for quite some time. Joe's deep dive into the curd began when he realized there are few foods people enjoy so much yet know so as little about. Sharing his knowledge with customers is a privilege he enjoys and the challenge of finding a cheese that makes a cheese enthusiast say "Oh my god! What was that? I've never tasted anything like it before!" is something that makes his day. One of Joe's favorite BCS cheeses is Brillat Savarin and one of his favorite pairings is Korean rice wine with some young Comte or Tomme Adrienne which highlight the notes of plum, orange, and wheat.  Let Joe walk you through our case and cheese please you!