Shop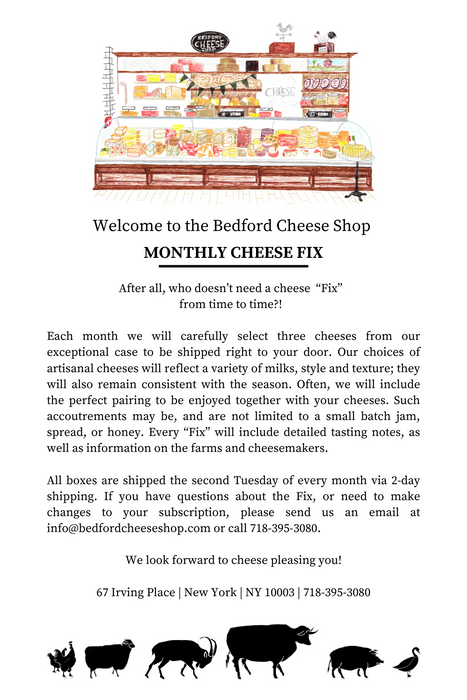 Who doesn't need a cheese "Fix" from time to time?!  Whether you are gifting a friend, colleague, loved one or even yourself - our Monthly Cheese Fix is just the thing! 
Each month, Bedford Cheese Shop will carefully select three cheeses from our exceptional case to be shipped right to your door.  Our choices of artisanal cheeses will reflect a variety of milks, style and texture;  they will also remain consistent with the season.  Often, we will include the perfect pairing to be enjoyed together with your cheeses.  Such accoutrements may be, and are not limited to, small batch jams, spreads, or honeys.  Every "Fix" will include detailed tasting notes, as well as information on the farms and cheesemakers.
HOW DOES IT WORK?
Select your option:  from 3 months, 6 months, 9 months.
-Each Fix includes a total of one pound of cheese and an accoutrement.

-The cost of shipping is included in the price of the Fix.

-Each Fix is shipped on the second Tuesday of the month.

-If you are planning to give the Fix as a gift, we will include a personal note with the first shipment, either our standard welcome or one crafted by you (when you make your purchase please enter a gift note in the comments section). You can download our Cheese Fix PDF to send to the subscription recipient 

-Payment will be processed when you place the order, and your first Fix will be shipped on the next "second Tuesday" of the month.  
If you have questions about the Fix, or need to make changes to your subscription, please send us an email at info@bedfordcheeseshop.com or call 718-395-3080. We only deliver the monthly cheese fix domestically.

In an effort to streamline the cost of your subscription boxes we have factored in the cost of delivery into two zones. To get your Fix shipped to you or your intended, please make your selection from the two zones provided. If one is not selected or does not correlate with your delivery address you will be contacted by our team at the shop. 

EAST of Mississippi Pricing Includes the Following States: Alabama, Connecticut, Delaware, Florida, Georgia, Illinois, Indiana, Kentucky, Maine, Maryland, Massachusetts, Michigan, Mississippi, New Hampshire, New Jersey, New York, North Carolina, Ohio, Pennsylvania, Rhode Island, South Carolina, Tennessee, Vermont, Virginia, Washington D.C., West Virginia, & Wisconsin. 
WEST of Mississippi Pricing Includes the Following States: Alaska, Arizona, Arkansas, California Colorado, Hawaii, Idaho, Iowa, Kansas, Louisiana, Minnesota, Missouri, Montana, Nebraska, Nevada, New Mexico, North Dakota, Oklahoma, Oregon, South Dakota, Texas, Utah, Washington, & Wyoming.